E
mulators have been long around for a while now to curb our wants and needs, whenever we wish to get a taste of the other side. However, there are tons of programs out there that claim to be the best but do not function well. In this regard, we have compiled the best (and free) Android emulators for Windows so you can enjoy mobile games on your PC as well.
But, before we get into that, let's take a look at what emulators are and how they operate.
What are Emulators?
An emulator can be described as any software program or application that works by copying or duplicating the mode of operation of another computer or program. In easier terms, emulators can allow you to play exclusive PlayStation games on a computer. Cool, right?
It works on a host and guest basis. The host is the computer program that's going to give you the functionality of another system, which is called the guest. The host is, therefore, provided full access to use the guest's software, multiple tools, and parts that make up its environment.
From a system's software, hardware, operating system, or even the CPU, emulators are of numerous types having several effects. These are primarily designed to offer you the experience of another system of your choice.
Emulators come in handy when you're faced with problems such as this; you own a Mac, and there's an urgency to use an app that's made specifically for Windows. Emulators can set you up for good in this situation.
Best and Free Android Emulators for Windows
Now that we have a basic understanding of the program in question, let's get to the list of the ten high-quality Android emulators that work like a charm on Windows.
1. BlueStacks
Starting off the list is the brilliant BlueStacks, arguably crowned as one of the best Android emulators for Windows. Its origin dates back to 8 years ago and is flourishing even today. BlueStacks offers a polished user interface with an interactive design. It's optimized to host a multitude of developer options, too, so entrepreneurs can have an easier time making their way with BlueStacks.
Despite aging well, the emulator still receives updates timely, to make the user experience even better. This is one of the key reasons why BlueStacks remains the preferred Android emulator for many. It's supported by Apple's Mac as well, and it been thoroughly tested to be compatible with Windows XP, Windows 7, and Windows 10 as well.
You will find most of the Google Play Store on your Windows PC using BlueStacks since it is unmatched with any other emulator in terms of versatility. Also, you don't have to be an IT expert for BlueStacks. With the interface being straightforward and beginner-friendly, even the newest of users will have a great time operating the emulator and enjoying gaming.
Moreover, the latest update- BlueStacks + N Beta has brought compatibility for Android 7, topping all other emulators since the majority offer gaming only up to Android 4.4. BlueStacks is also diverse in its field, with a wide variety of features that enable mobile gaming on the PC to its full potential. All in all, this US-based emulator is bound to deliver profound gaming on your Windows desktop.
2. Android Studio
The Android Studio can be regarded as a developmental control panel for Android, and the plus point? It packs a fully operational Android emulator as well. First and foremost, it lets you make Android apps from scratch. It contains many tools and utilities to assist the average developer in testing their app or game. No wonder it's a favorite for many Android enthusiasts.
The Android Studio hails right from Google, and its primary goal has been to assist developers when they are forming an app or a game. In this manner, they can test their app seamlessly without any further delay using Android Studio.
3. Nox Player
The next emulator on the list is the highly praised Nox Player, which has brought unprecedented functionality and ease on Windows in the light of Android.
Nox Player is free but is on the level of a paid product. It allows you to map keyboard keys, mouse, or any other controller as per your liking. It also offers controller support in-game, and lets yNox Playerou even key-map gestures.
Using Nox, an expansive range of options are available to you. For starters, you can opt for a screen record, screenshots, calibrating CPU and RAM usage to accommodate gaming, and more.
Nox Player even lets you root your device in a matter of minutes virtually. On the other hand, you get the Google Play Store built-in inside the emulator, authorizing you to maximize the full potential of Android gaming.
4. MEmu
MEmu is an Android emulator that has Intel and AMD chipset support, making it one of the most distinct emulation programs you can find.
It receives consistent updates that improve the general interface and UI, and it even supports numerous versions of Android's OS. Additionally, you can also multitask with MEmu,
Compromising on the graphics, MEmu has full-throttle on the performance side of gaming, delivering you a great, sublime adventure with your PC. It's effortless to install and can be set up fast. It also allows key-mapping to enhance further your time spent with it, and APK installation is trouble-free with MEmu. As an extra feature, this emulator allows swift sharing of files between Android and Windows as well, operating as more than just an emulator.
5. Bliss OS
Bliss OS is an operating system of its own and brings something different to the table.
It acts by forming a virtual machine, which is an emulation within a computer system. You're going to be a little bothered with the installation steps at first, but we assure you it'll be worth it if you stick till the very end.
You can also run it using a USB stick, as Bliss OS supports the boot-from-USB option as well. For this, however, you will need a bootable USB. As a result, your Windows PC is going to launch Android natively, and you can take it from there. Bliss OS is genuinely unique in this regard that it's open-source, and doesn't let any ads or other unwanted hassle ruin the user experience.
6. KoPlayer
KoPlayer is another capable Android emulator on the list that's light, speedy, and minimalistic in its way. Even so, its user-friendliness has led it to end up here as one of the best emulators for Windows.
As KoPlayer is free, ignore the ads you see as something of trivial importance. It's effortless to download and get it running on your PC.
KoPlayer features the latest x86 Kernel tech that's striving to maintain excellent standards as an emulator. To improve your gaming time, KoPlayer offers compatibility for different gamepads, and even lets you map keys.
Shareability is also featured on KoPlayer. Feel free to save screenshots and having a screen-record to remember by treasured moments while you play. You can use KoPlayer right now if you have Windows 7, Windows 10, or even Windows XP.
7. Genymotion
This emulator is engineered from the group up for enthusiastic developers, offering them prime features and modes for developing games.
Genymotion comprises a built-in platform with regard, equipping you with the latest tools and services you need to develop apps and games, all at the comfort of your own Windows PC.
Additionally, Genymotion is available on Cloud as well, where the servers can do all the work for you. Genymotion also allows you to undergo the testing phase for your games and apps on different versions of the operating system on Android phones. We wouldn't recommend it for consumer use, but it deserves a spot on this list for its convenient practicality.
8. GameLoop
What was originally known as Tencent Gaming Buddy, is now renamed as GameLoop. If you're an avid gamer, you might be asking yourself whether you've heard the former before.
Tencent Gaming Buddy is the renowned developer behind Call of Duty: Mobile, and Player Unknown's Battlegrounds, better coined as PUBG. Both of these highly engaging games have taken the mobile gaming world by storm.
Forming a player base in millions, Tencent has declared GameLoop as its official Android emulator for running its games on Windows and PC. The game developer has, therefore, confirmed GameLoop's authenticity.
The performance of the emulator is reasonably good and runs smoothly. You'll thoroughly enjoy the FPS experience on Windows through GameLoop. However, the emulator lacks a vast collection of titles in its library, and can only do so much. Nevertheless, with the addition of a few newer games frequently, its slowly rising in the ranks as it continues to grow.
You cannot bother with developing or testing other apps or games with GameLoop, hence the fact that it's only committed to Android gaming. Generally speaking, GameLoop is quite a quality emulator with a promising future. Get a touch of FPS goodness with GameLoop, and whole other absorbing titles by downloading for free.
9. LDPlayer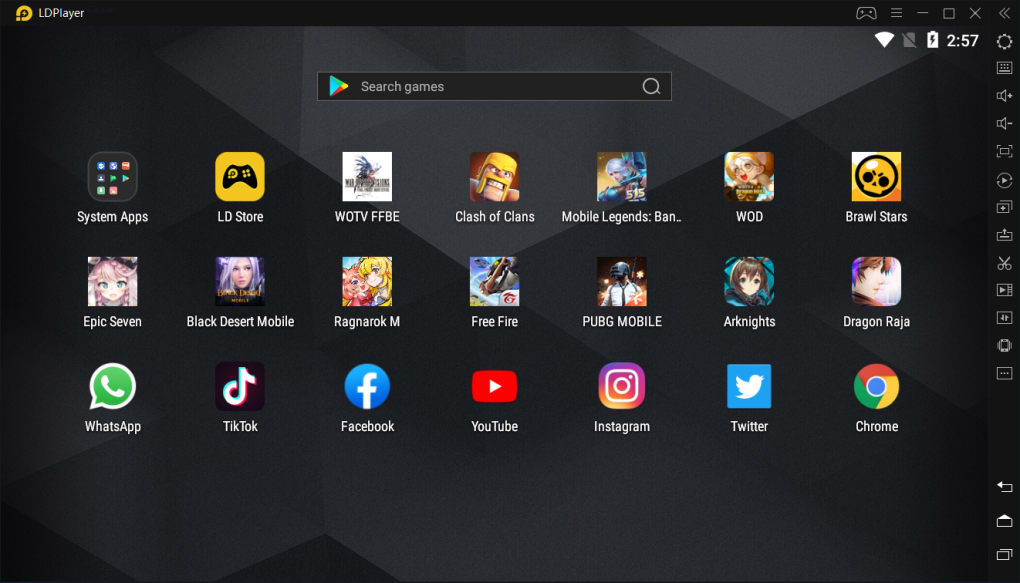 LD Player is a worthy Android emulator making this list. It's one of the very few programs that get frequent updates and is still cared about by the devs.
It includes the usual key-mapping of the keyboard, great graphics support, and much more. There's also an admirable collection of regularly played games on LDPlayer, with Free Fire- the popular multiplayer FPS, being on top.
LDPlayer is an emulator with an interactive design and simple usage. However, it's able enough to function correctly and serve its purpose very well.
10. Andy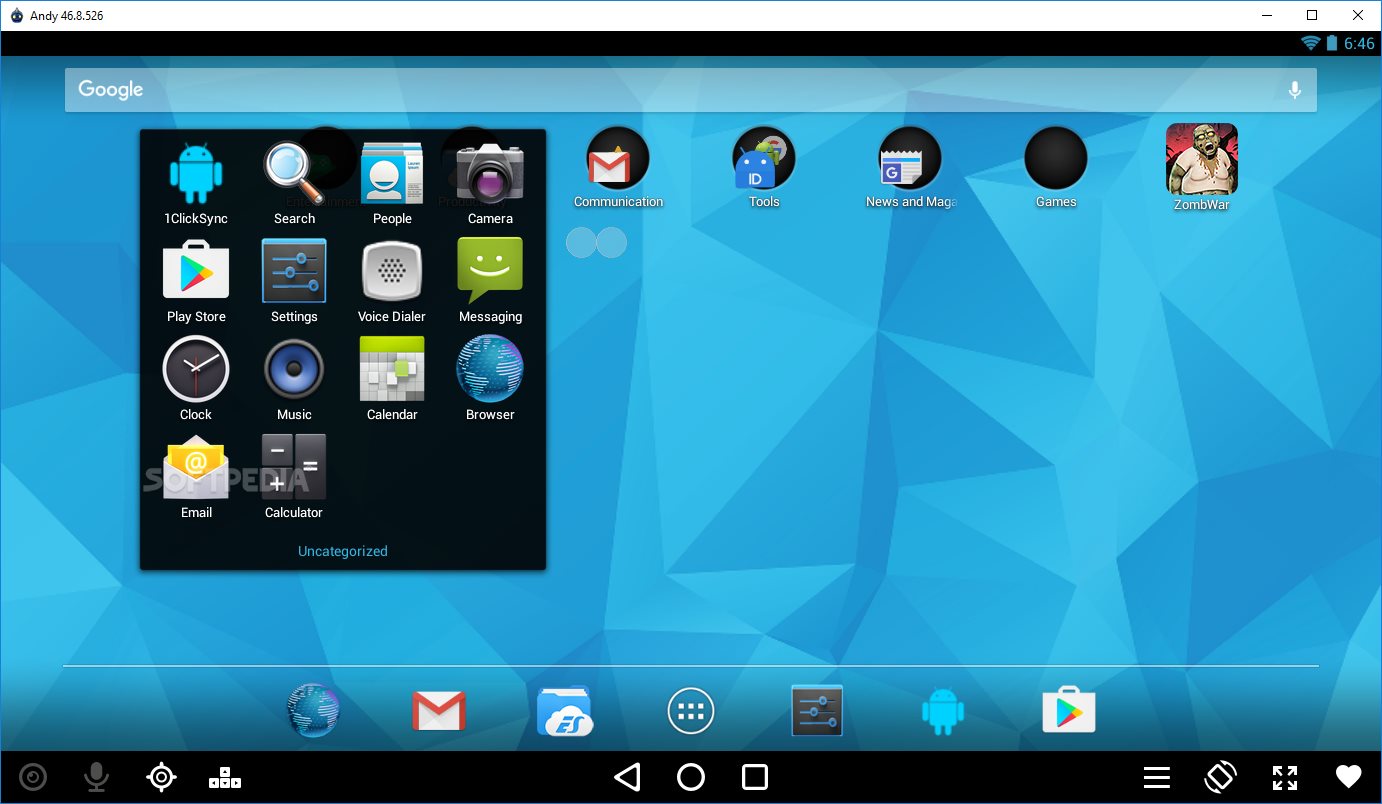 Andy isn't known that much but still makes a list because of the features it provides to its users.
It's mostly associated with the latest versions of the Android OS, and also lets keyboard mapping and such. You can also sync your data between Windows and Android without any pause or delay.
You can download games and apps from any browser directly onto the operating system of the emulator, and enjoy games with ARM support.
With a full-screen mode that quickly switches from portrait and landscape as well, gets the full Android experience on your Windows with Andy, one of the best emulators out there. Rock mobile gaming on your Windows PC with Andy by downloading the emulator for free.
Conclusion
Android emulators for Windows are going to provide you with the gaming satisfaction you need right on your computer. From BlueStacks to Andy, all the programs listed here are some of the best you'll find for playing mobile games on a different platform. However, we recommend giving each emulator a try to see which one fits best to your needs and delivers what exactly you're looking for.
Our top pick from these emulators? BlueStacks. This is mainly because this Android emulator continuously improves itself from time to time, and has been around the longest when compared to any other emulator (more than eight years). You simply cannot go wrong with BlueStacks as it's been labeled by some as the pioneer of Android emulators. Those words do the program justice, as you can find almost everything there is on the Google Play Store on BlueStacks.