F
rom college education to a plethora of businesses, almost everyone has established their presence digitally, thanks to the recent outbreak. However, before the novel Coronavirus, not a lot of people knew about the video conference app. Quarantine amid the pandemic has led us to exhaust all our methods of spending time, except those who are still working from home.  Moreover, now that we're socially distancing ourselves, what's a better way to communicate with your circle online?
Therefore, Zoom doesn't have to be always work-related. Fortunately, it provides a platform to engage with your friends more interactively, opening up new opportunities to have fun. It's the ease of use, and high convenience makes it one of the best video calling apps, with room for multitasking.
Besides, it reinvigorates the fun times spent with your loved ones and friends and offers something different to the table.  So without any further ado, let's get to the top 10 games you can play right away with your friends on Zoom.
1. Charades
Charades remain a family classic to date, and now that the game can be introduced online, the possibilities are even more diverse. It's game that everyone could play once in a while, and enjoy whole-heartedly. It's designed to ensure maximum engagement and let everyone participate in one way or the other. The game works by one person who gets all the focus on themselves.
They are given any word or phrase related to topics from all over, and they have to act and perform that word so others can guess what's going on. Charades can be played on Zoom by setting apart teams first and foremost. This will help determine the winning and losing team later on. A member will start by playing out the charade per the word he/she has been given. Also, this is where the practicality of Zoom comes in.
Users can use the exclusive "spotlight" feature of Zoom to grab all the attention, so every attendant knows who's running the show at that time. Aesthetically, this amounts to a better viewing experience as well. Charades can get fun when played the right way. You can use your endearing social circle to get involved and spice up the Zoom conversation. Use this online Charades word and phrase generator to help you put some exciting stuff out there.
2. Scavenger Hunt
Another Zoom game idea taken from an awesome physical game that's hosted in conventions and events around the world is Scavenger Hunt. It's as if you assume you're a caveman from the Stone Age, and the world is your hunting ground. The game is played similarly, though, minus all the evolution.
As a bonus, Scavenger Hunt can work amazingly well if you've got kids at home. Games like these tend to get children excited and happy as well. You play the game by hosting a good amount of people on your Zoom meeting. When everyone's settled, the person-in-charge has to give you the name of any household item, object, or even years old stuff from your attic. In return, you have to find the allotted object within a strict timeframe.
Now, there are multiple variations you could apply to make everything more challenging and fun than ever. For instance, incorporate riddles within the game that determines what needs to be found out. This could increase difficulty (and entertainment too!) by leaps and bounds.
3. Pictionary
Pictionary is a game that flows nicely with Zoom because you'll be using the video app's very own built-in feature. This game is sure to get the whole squad laughing. To get started, you have to opt for the screen share option found just aside Zoom's toolbar. From there, you'll be prompted to choose a whiteboard screen or simply share your desktop.
You can choose the whiteboard screen to get Pictionary rolling. Now, all you have to do is invite a couple of friends over, or even a larger group if you're looking for team-based gameplay, and you're good to go. The game plays out by taking a word and doing your level best in an attempt to draw it. It's really as simple as that.
Furthermore, it's now visibly apparent how the whiteboard screen share option can work wonders in this regard. As always, you can spark the game's difficulty by adding several demanding variations. For starters, you could add a strict time limit that could potentially pressurize your opponent into shouting out the wrong answers.
Here's a free, automatic word generator specialized for Pictionary. You can use this tool to get a multitude of ideas when nothing of significance is coming to the mind. The drawing game is captivating for adults and kids alike, and everyone's going to have a fun time on Zoom with Pictionary. The moment you get the drawing right and the reactions that follow are something to look back on at the end of the day.
4. Cards Against Humanity
Cards Against Humanity probably won't want your kids lying around when you're playing it. Yes, this ridiculously built game is one for the adults in the house, and to be played between friends. On Zoom, the game can be played like a charm. It's one of those games that gives off hours and hours of cringing fun and sets a hysterical mood.
The game features two types of cards- black and white. The black cards are going to be the ridiculous statements you're ever going to read, and the white card will pack the funniest answers to them. It's as simple as it gets but becomes genuinely hilarious.
It's one of the very best games you could play on Zoom while you're connected to your friends, not to mention also the best way to kill some time. Cards Against Humanity can be bought for $25, and you can check their absurd, comical website out here.
But, for your convenience, we have searched a free version of the game named All Bad Cards that works equally well. All you have to do is set up a room, invite your friends, and start playing this humorous savagery. Of course, to associate the game with Zoom, you'll have to set up screen sharing beforehand so everyone joins in on the fun.
5. Articulate!
If you Google the word "articulate," you'll find the definition, "having or showing the ability to speak fluently and coherently," and this is precisely what the game is about. In Articulate, you do your best to describe a word by just not saying the word itself! Grueling but extremely fun.
This game is more like a brain exercise where you challenge yourself to explain something with thorough eloquence. It's up to you to let your friends make fun of your act or just give them something challenging to ponder on. Articulate is best played with a group, so the fun is tripled. More the opinions, the better.
Looking from a different perspective, the game demands participation from everyone, so it's a lot about getting everyone entangled. Articulate flows perfectly when you're sending mixed signals and trying to exhibit nerve-racking wordplay. Those are the moments to live by when you've got everyone confused, and rattling in bewilderment.
Besides, the game also packs a ton of other exciting ways to play, including whole phrases that are even more exciting and engaging. Check out Articulate's card exhibition, and observe how they've got it all set up for you. Now, you just need a bunch of people to play with, so you can get the party started.
6. Psych
From the developers of Heads Up!- the popular Charades game on mobile, comes Psych, where you befall into a world of fictional answers, accumulating to a whole lot of fun. The game allows you and your companions to choose the correct answer between other funny, and made-up ones to very real trivia questions.
It's one of the funniest games on the list and works fantastic when you're playing with your besties. Besides, the app also features other modes in-game as well, with one of them being, "And The Truth Comes Out." Catch everyone's reactions live on Zoom, and get the game here.
7. Cards Play
Cards are a welcome favorite to people all over the world, and PlayingGames.io presents a fun opportunity to host a vast collection of card games that you can play online with your friends for free.
With the diversity they have, it's evident that you're going to find something feasible for you and the people you're going to play with.
You select a game, and then you proceed to invite people so they can join you and the fun about to take place.
You will find many classic games like Checkers, Go Fish, Crazy Fights, and more to curb your tastes.
8. Scattergories
Another worthy addition to the list is Scattergories, an easy yet equally amusing game that you can enjoy on Zoom with your loved ones! Scatterogires puts out some liveliness in your Zoom meetings and gives everyone a chance to test their wordsmith abilities.
You play the game creatively when you are given an initial letter from any category you'd like, and you have to form words with that letter. As an extra, you get bonus points if you type in an answer with alliteration.
For instance, if you get the letter C, write Charles Chaplin, and gain the upper hand. Here's one of the best Scattergories layout to enjoy with friends. Prepare with a piece of paper and something to write, and get the Zoom party started!
9. Jackbox
Another significant addition to the list is Jackbox, and you're going to find this one intriguing. Jackbox is a pack of party games that allow you to enjoy a plethora of various types of game modes. You and your friends are bound to get the most out of Jackbox, which features an innumerable amount of titles.
From a laptop to a mobile phone, Jackbox's versatility allows it to be played on any device, and you can use Zoom to enhance the fun and user experience as well. Jackbox features Party Packs- a bundle of different games ranging from bluffing, trivia-based, drawing, and fill-in-the-blank games. Even those who aren't a fan of video gaming are sure to enjoy what Jackbox has to offer.
The interface of the party collection games allow Zoom to be seamlessly set up, and the whole lot of you can enjoy together. Twitch streamers like Sonja Reid have widely reviewed Jackbox, and everyone has come to a single conclusion that how the games on the platform are so easy to pick up, and captivating to even those who aren't gamers.
This is the specialty of Jackbox- building up to games with simple mechanics to ensure everyone has a great time. Jackbox game series are paid, and a single party pack can be bought for as low as $17 as the majority of them are on sale right now. Get Jackbox now.
10. QuizUp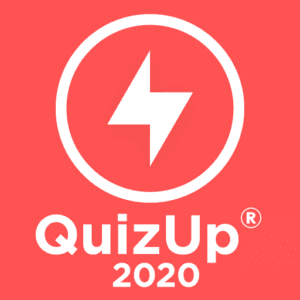 Our personal favorite is QuizUp- a trivia-based game where you get to choose from more topics than you can even think of! The best part? The fun only starts with Zoom.
QuizUp is where you can come forward with your talent in knowledge. No matter if you're a book worm or a movie fanatic, this trivia game has something to offer for everyone.
QuizUp can be downloaded for free on mobile for iOS and Android both. Luckily, you're going to have the same great experience on either platform. This game is one for the knowledge seekers that strikingly boast about themselves. If you're one of those people, it's time to step forward and show everybody what you're made of.
They say the sky is the limit, but there's no limit to the range of topics in QuizUp. We guarantee you're going to find what interests you, so the time spent playing with friends is worthwhile. You can change the vibe of your Zoom meeting by sharing your screen, so everyone knows what's up. Then, you invite a couple of your friends over the game and match up against each other, two at a time.
This way, you're going directly head-to-head with your friend in this fun trivia game. Moreover, another reason why QuizUp is highly praised is because of its smooth design, appealing interface, and terrific versatility.
Conclusion
Now that it's an obligation to stay home and stay lives, Zoom and 10 of these game ideas have given us a fantastic reason to practice social distancing with heart. All of these options are great enough to get the party started with your friends, and subsequently, get the fun started. We recommend giving each game a try to see what falls into the zone of your preference, and what your friends are going to like as well.